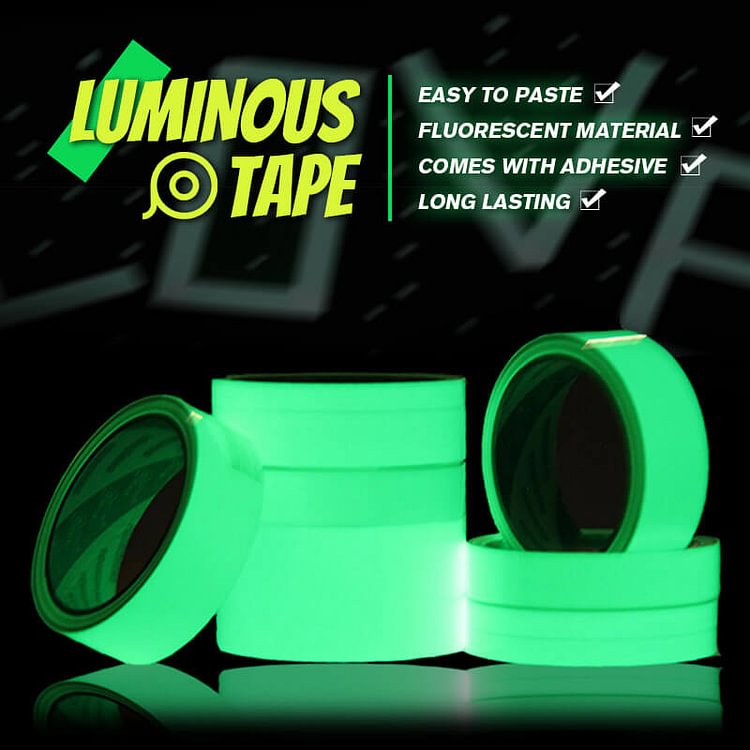 Main Features
SUITABLE FOR A WIDE VARIETY OF PURPOSES, ideal for use at home & office, parties, interior & exterior decorations, float fishing Jigs, clothing, night activities, games, cardboard, backpacks, walls, glass, handrails, stairs, doors, exits, emergency corridors, switches, instruments, imaginative projects, artwork, lettering and many more. (※ Work best on a smooth surface, flat surfaces. DON'T apply to ROUGH and UNEVEN surface.)

In order to achieve a good luminous effect, please note that the glow in the dark tape must be charged about 30 minutes in bright light before each use. It can be charged faster when using those with UV rays in them, like sunlight and black light. Initial brightness is high, then slowly fades off as long as it is in the dark. Expose it to light again and it starts glowing in the dark again.
It can be charged over and over again almost indefinitely and will keep working for many years. The first few hours are bright, then gradually dimmed, still visible but faint light. If you think it's not bright enough, you need to charge it again.
Specification:
Size: 1cmx3m (W x L)

Color: Green, blue-green, blue

Material: PET

Quantity: Luminous tape x 1
Note